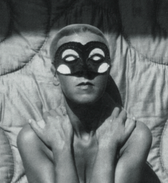 Under this mask, another mask. I will never be finished removing all these faces. ~claude cahun
OUR ADVENTURE with photography devoted to the identity of women began when we first saw the exhibition of Claude Cahun's photographic works in London's Tate Modern in 2008.
We saw the author's self-portrait dating from the 1930s, with her face among masks. We felt the photograph was a manifesto symbolizing objection to the society's rejection of "different" people. Another poignant photograph is also etched in our memory. It represents a face and a figure hidden behind a vertical rock. Only the hands, extended towards the viewer, denote a desperate attempt to find one's own autonomous "self".
The sentence summing up Claude Cahun's creative output: Under this mask another mask... I will never be finished removing all these faces... became a motto for our creative endeavours.
We decided to create a collection of photographs depicting different ways of representing femininity and women's identity. We wanted to show how women existed in the society and functioned among social stereotypes. Our goal was to tackle topics of gender identification, the transience of life, liberation and equality. We sought to show women as "Mother Earth" figures, sexy vamps, scandal makers, lovers, performers and pop icons, represented ideologically – especially in recent times – by references to feminism, gender issues and closely associated transsexualism.
Initially, we wanted to focus solely on the works of recognized photography masters. As the next step, however, we decided to include photographs by young artists as well. An important highlight in the development of the collection was meeting Adam Mazur who helped us compile a long list of Polish artists who were interested in photographic explorations of the problem of social gender.
We hope that all visitors – just like us – will be fascinated by the stark contrast between works created by the generation of classics with recognized artistic merit and spontaneous – often verging on aggressive – creations of today's 30-year-olds.
We would like the exhibition and the catalogue to contribute to the promotion of salient trends in Polish photography. We believe photographs to be as powerful a medium as the written word. Therefore, we hope that the exhibition will become a stimulus that triggers important debates.
We wish to thank all the artists represented in our photographic collection for the time they devoted to us.
Our special thanks go to Adam Mazur for his essential insight, valuable feedback and inspiration.
We would also like to thank organizers of the Łódź Photographic Festival 2012. It is with their aid that a part of the collection could be unveiled for the first time.
Joanna and Krzysztof Madelski