TV Olsztyn
fotopolis.pl
Read more here: fotopolis.pl
The opening in the BWA Gallery of Art in Olsztyn
artinfo.pl
The iconography of womanhood
The exhibition "Subjects of Gender and Desire" does not aspire to show a complete picture of femininity. The pursuit of such is doomed to fail right from the start. Faced with the impossible, the exhibition rather takes an attempt to show dynamically changing in our culture images of femininity. Curators of exhibition, through the selection of photographs and videos, wanted to show a woman seen from multiple perspectives, through the eyes of both men and women themselves. Putting together the selected images at the same time they pose questions about the functioning of the existing stereotypes of women, especially the female body in the social sphere, media, artistry and commercial side.
Collection of Joanna and Christopher Madelskich is a selection of photographs taken by Polish artists over the past years.
Read more here: artinfo.pl
Gazeta Turystyczna Warmii i Mazur
"Subjects of Gender and Desire" - review
Collection of Joanna and Christopher Madelskich is a representative selection of photographs taken by Polish artists over the past several years. It's a kind of feminine iconography written for dozens of works arranged chronologically. It is an attempt to answer the question how picture of women has changed over time, and how it changed its perception.
Read more here: www.gazeta.mazury.pl
Magazyn TAKE ME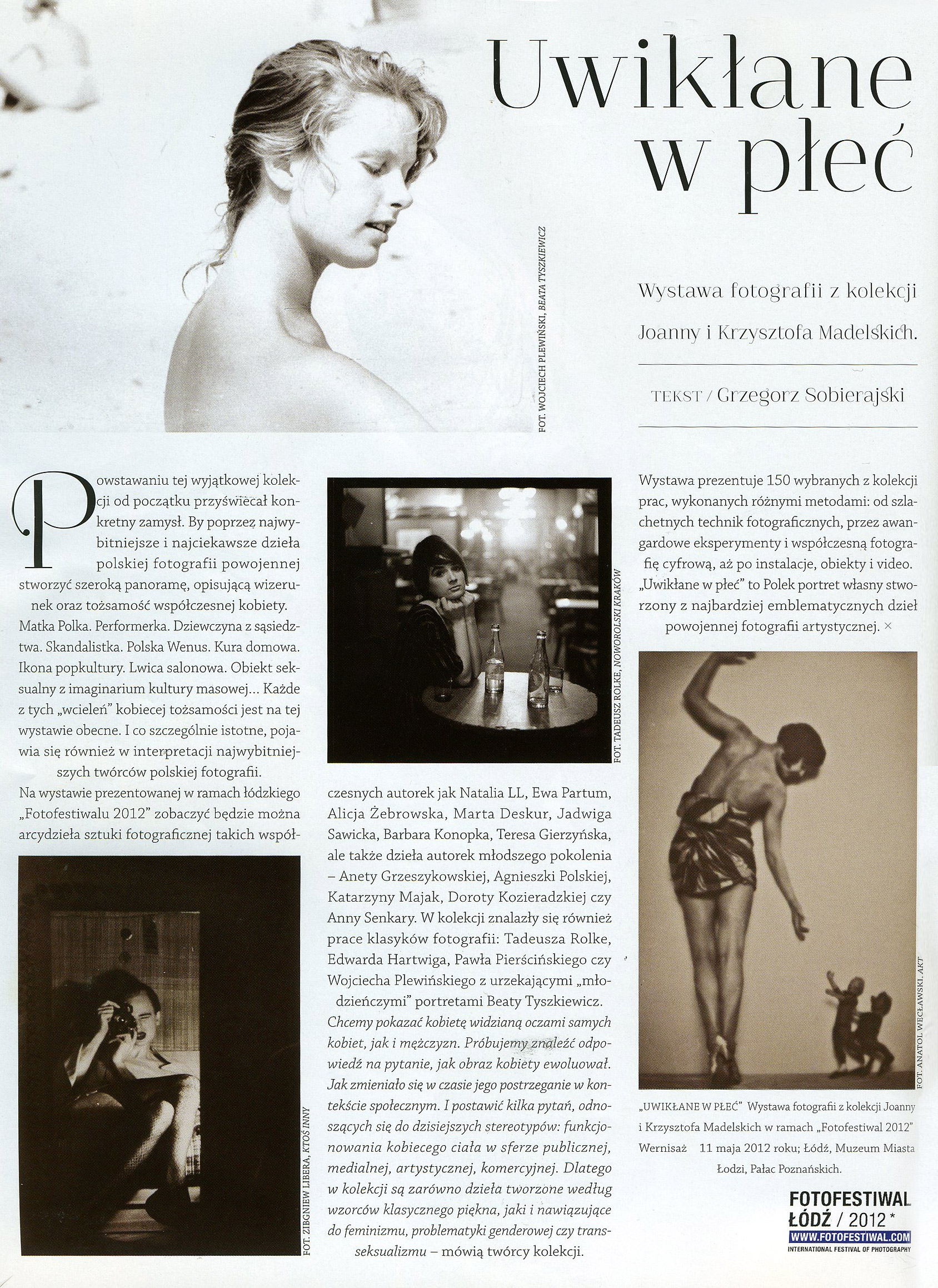 K MAG

METRO OBIEKTYWY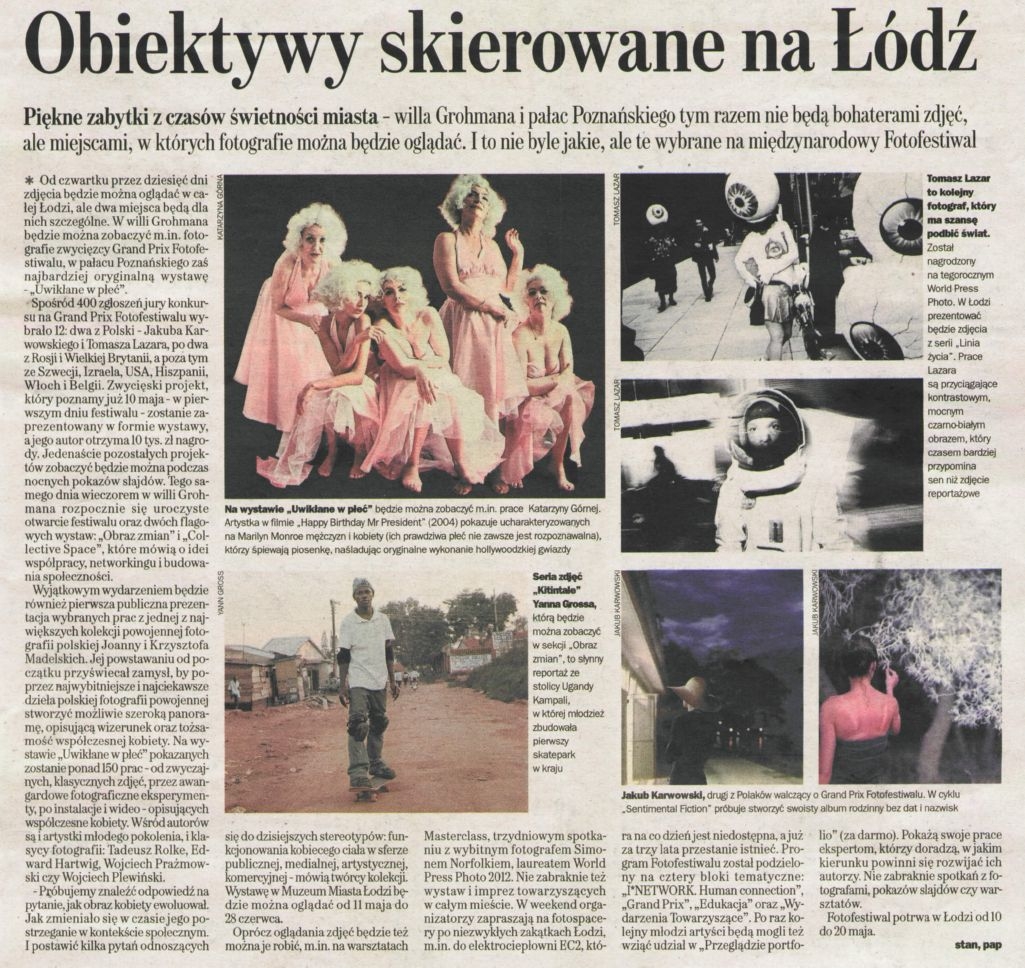 DZIENNIK ŁÓDZKI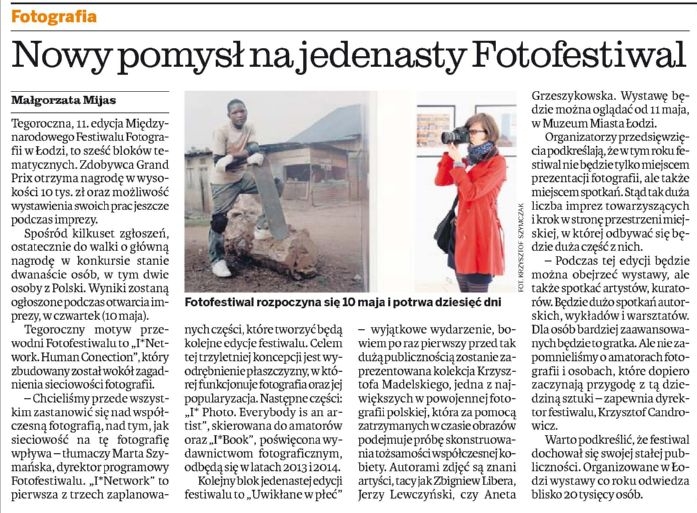 GAZETA WYBORCZA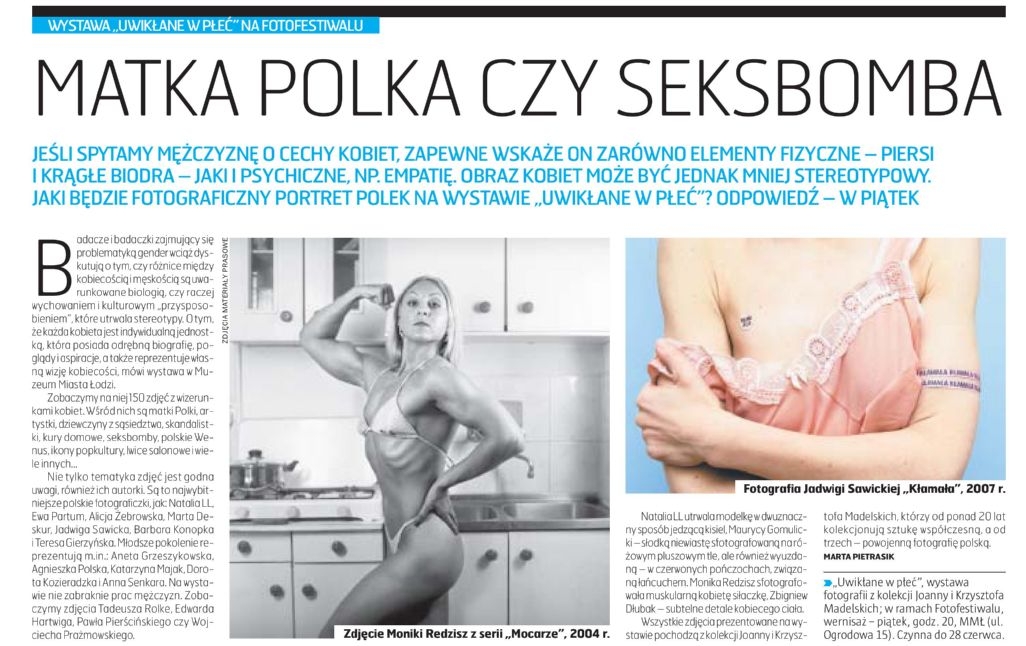 EXPRESS BYDGOSKI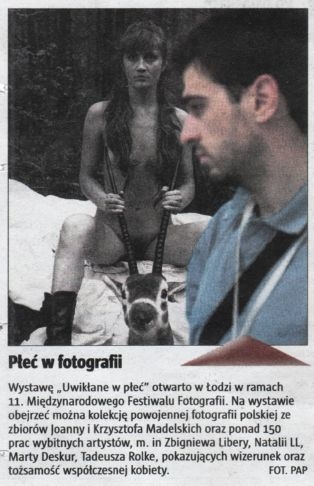 EXPRESS ILUSTROWANY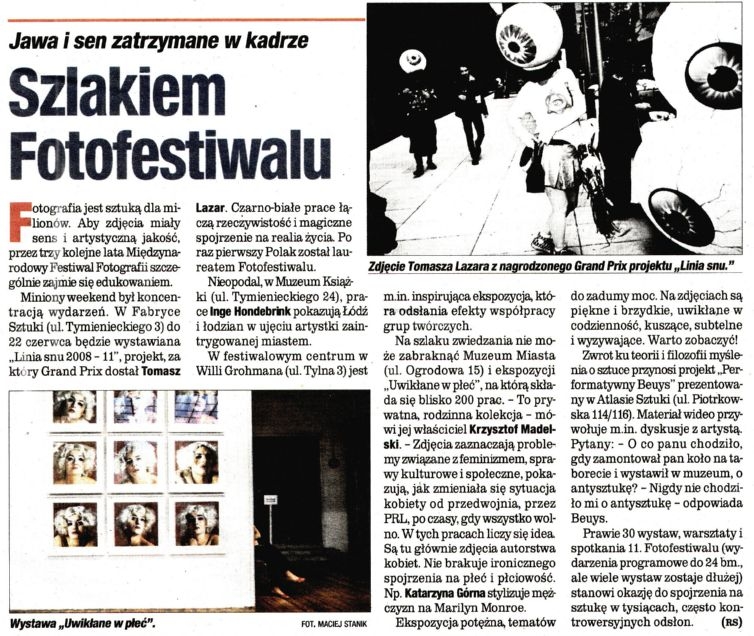 DZIENNIK ŁÓDZKI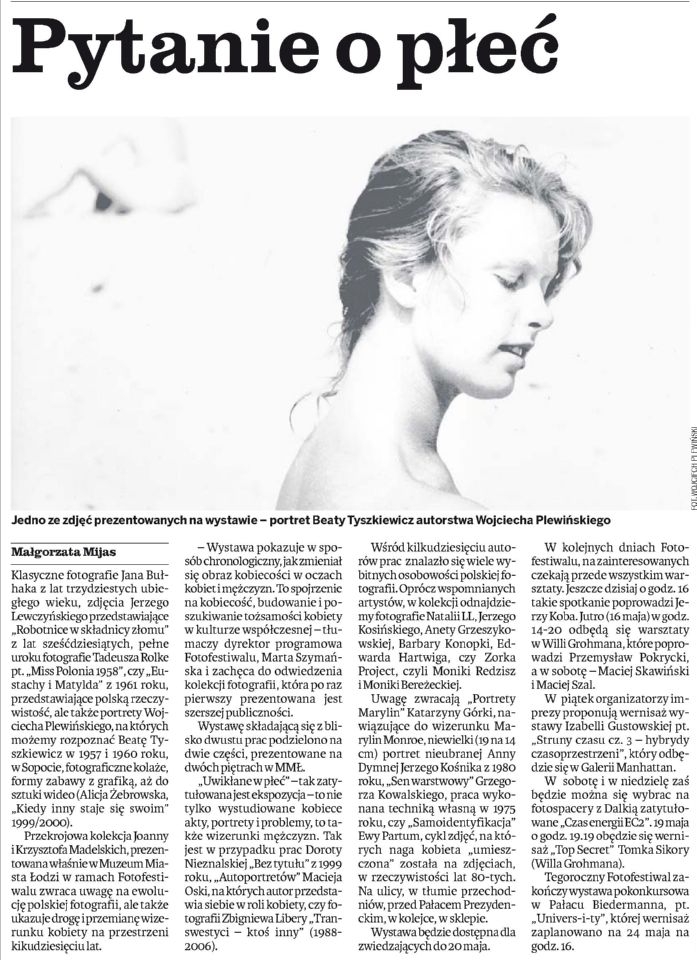 EXPRESS ILUSTROWANY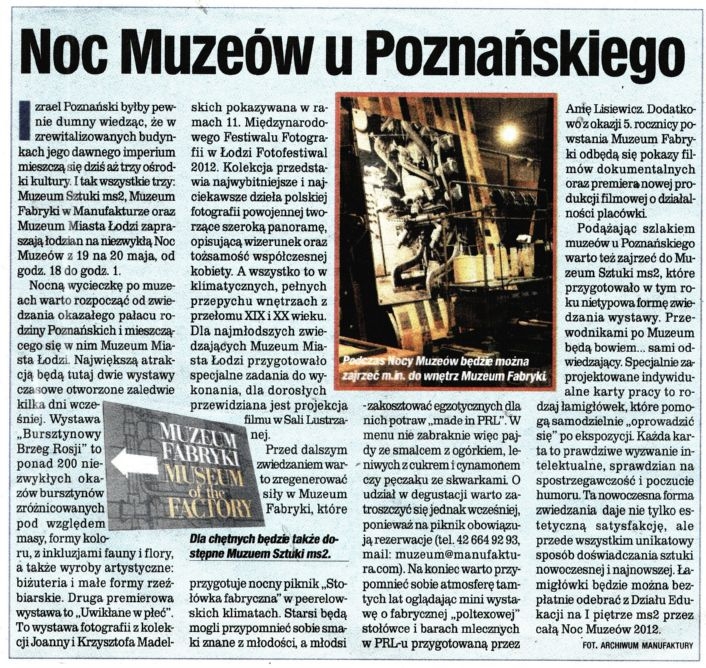 DZIENNIK ŁÓDZKI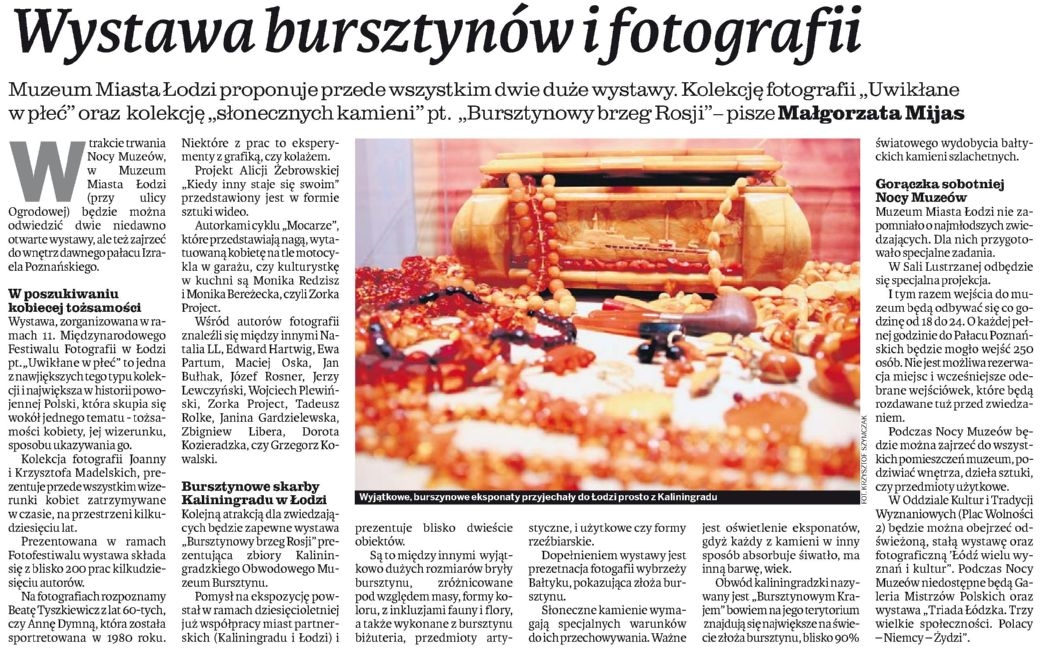 PRZEGLĄD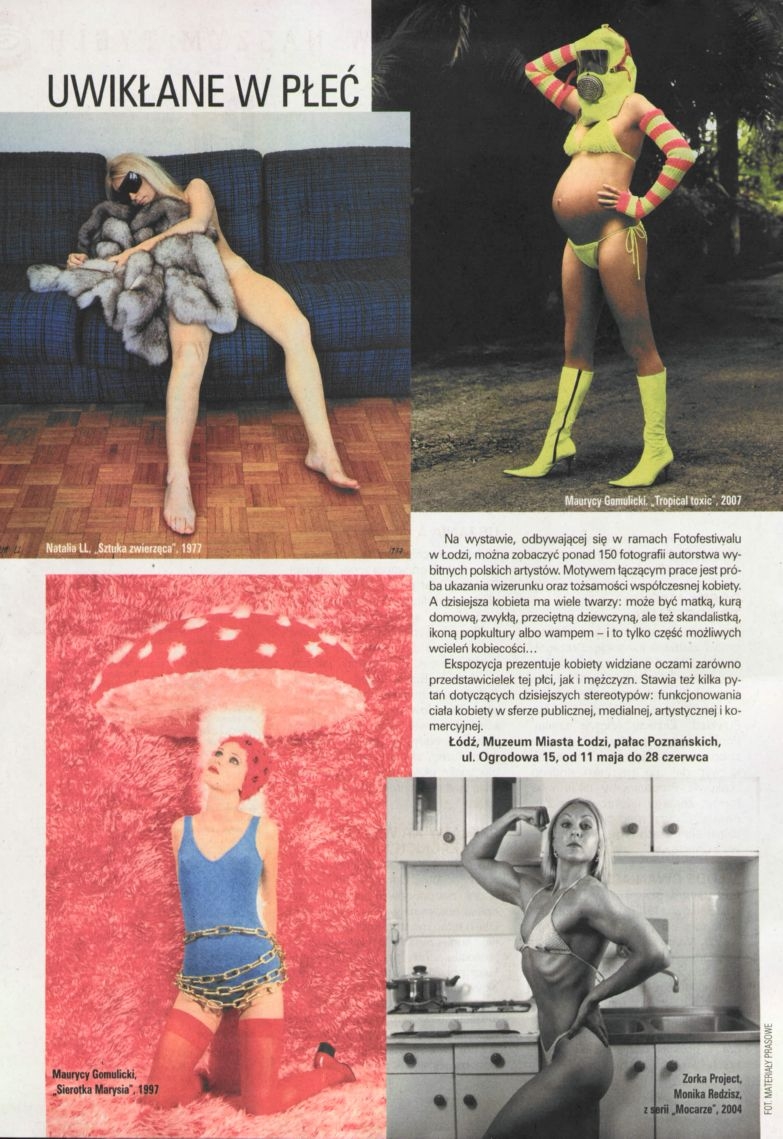 Articles on: NaTemat.pl, Fotopolis.pl, Tygodnik Przegląd, Esensja.pl, kultura.wp.pl, Polska Lokalna, FotoForum, Artysta.pl, TOK FM, Wiadomosci.gazeta.pl, Culture.pl, Fakty.interia.pl, Weranda, Kultura.gazeta.pl, NaTemat.pl, News.o.pl, Wprost, Aktivist, Bold Magazine, Arteon, Kikimora, 6x7art, Fotografia Kolekcjonerska, Purpose, Wiadomości.onet.pl, Punkt Widzenia, Style Hot Cold, Lookout Gallery, Świat Obrazu, Krytyka Polityczna, Aktivist, Fotomargines, O.pl, Wysokie Obcasy, Obieg, Rzeczypospolita, Styl.fm, E-Vive.pl, Modaija, Kobieta Mag.

An interview with Krzysztof Madelski by Marta Kowalewska
Krzysztof Madelski - CEO of YES; collector. At the 11th International Photography Festival in Lodz a thematic collection of photographs was presented for the first time, which Krzysztof has been creating with his wife Joanna for the past 4 years, one of the largest of its kind in Poland. The exhibition at the Museum of the City of Lodz in Poznanski Palace, entitled 'Subjects of Gender and Desire', shows about 160 works dealing with the broadly understood socio-cultural identity of the modern woman.
MK: You have been collecting works of Polish modern art for the last 20 years, and yet only recently has the collection been enriched by works of photography. Currently this part of the collection has around 250 items. What has influenced this new focus of interest?
KM: We began to collect photography four years ago, prior to that Polish abstract painting lay at the centre of our interest. The result of our fascination is a long-lasting friendship with Stanislaw Fijalkowski. However, in all passions there come moments when certain re-evaluations occur. The impetus for us was an exhibition of French artist Claude Cahun (1894-1954) at London's Tate Modern in 2008. Unassuming photographs from the 1930s, mainly self-portraits in masks and costumes, had provided so much food for thought that they formed the stimulus for us to begin collecting photography dedicated to a particular topic. We became interested in issues of gender in its socio-cultural context. We are not art historians, we don't analyse whether a given photograph belongs to the strand of critical, subjective or exploratory art. We focus on the subject and the ways of presenting certain issues. The adoption of such an approach has narrowed our explorations.
MK: Did you cease to expand your collection of painting and graphics since you have focused on photography?
KM: The painting collection is already quite substantial, we have run out of room on the walls. The main reason, however, for the closure of our paintings and graphics collection was the realisation just how few people were interested in them. Contemporary art exhibitions, organised by my wife, reach fewer and fewer audiences. In my times of student travels I had the opportunity to observe the culture and the market of England, Germany and Sweden. I thought that with the regime change in our country the cultural and artistic consciousness would also alter. Changes certainly took place, unfortunately in the area of art they were much slower than I had expected. It dawned on me that it was about time to take up a more current topic. This doesn't mean, though, that I regret anything or negate my previous interests. I still believe the achievements of the post-WW2 Polish artists are incredibly fascinating, though it is regrettable so few people appreciate them today.
MK: Was the idea to take on more contemporary, burning issues, which are currently talked about?
KM: It was more about taking on a subject important for people, but not necessarily present in the media, which are tired of the issues of feminism, and afraid of anti-religious themes in art. Our collection does touch on those sensitive issues. We exhibit the works of Dorota Nieznalska, who, as everyone knows, has met with serious harassment, and has stood before court. Nevertheless, it was an incentive to focus on this subject because of the wider interest of the public. For the collector it means a hope that they won't be collecting for collection's sake.
MK: You are building up collections in order to share and exhibit them...
MK: I often ask myself why I do it. Passion is a kind of addiction. This is probably the easiest explanation. But somewhere there is a conviction that these photographs are not merely decorative, that they talk about issues important to certain social groups. I'm not involved in the feminist movement or the equality struggle, but I would like to see these works inspire discussion. I won't do promotions, I don't intend to inspire followers, I wish for this exhibition to become a substantial voice presenting gender on the plane of various mores and cultural phenomena. On the other hand, the aim of the exhibition is not to signal that this world is terribly sad, complicated and hopeless. I'd also like to cast a slightly ironic, grotesque eye on these issues. Not in a funny way, but neither with mortal gravity. Hence the choice of the promotional image by Katarzyna Gorna, Marylin.
MK: Katarzyna Gorna belongs to the young generation of artists; you also have in your collection works by such doyens of the history of Polish photography as Tadeusz Rolke, Edward Hartwig and Wojciech Plewiński. Thanks to such a broad spectrum one can see how the perception of femininity in Polish art has evolved.
KM: Looking at the collection we can consider it in a number of contexts. The most obvious is that of chronology: we see the picture of changes in representing women in the last 100 years. Beginning with examples of pre-war photography, frivolous yet traditionally understood nudes by Anatol Weclawski or Benedykt Dorys, through post-war embodiments of women in the stylistics of social realism, such as Tynkarka Nowohucka by Wiktor Pental. In later years, as a rebellion against the imposed doctrine, subjective photography materialised. This collection also includes abstract compositions of the female body by Zbigniew Dlubak. The works of Natalia LL and Ewa Partum represent the strand of critical art of the 1970s, which has found their contemporary continuation in photography of Dorota Nieznalska. The collection also includes intriguing works by artists of the young generation, the students of Grzegorz Kowalski, as well as original works by the master himself. I suggest to look at the collection from the perspective of the issues involved. A curious manifesto touching upon the issues of abortion constitute the works by Alicja Zebrowska. On the other hand, photographs by Zbigniew Liber and Maciej Osik toy with transsexualism.
It is also worth paying attention to the examples showing how the female body has been used in photography, sometimes captured in a rather sublime, sophisticated manner, other times treated as an object. Such a perspective encourages us to reflect on what we see every day in advertising, on the manner of portraying women. Due to the universality of these phenomena we have become downright desensitised. And yet half a century ago, the cyclic female nude exhibitions, Venus, aroused widespread interest and were widely commented events. Soldiers on leave would commute to the exhibitions in cars specially tacked on to trains. How do we perceive nudity today? There are myriad aspects related to the perception of the body.
MK: What, then, was the key to selection of the works and the authors?
KM: It was not my ambition to carry out studies in gender, nor to create a collection with a strong basis in scientific analysis of the topic. I say in advance that I speak from the comfort of a layman. The source lies in the sheer interest in life, in that which is current, which is controversial. A creation of a family collection, chosen together with my wife and children. Initially these acts were quite chaotic. The meeting of Adam Mazur, an art historian, constituted a pivotal moment. Long and fascinating discussions shaped my explorations. Together we created a plan, singled out the subjects, identified the nature of the collection as impressionistic, more by way of implementing the enthusiasm and passion than completing a task and complementing the missing pieces. We would not have had enough time to explore all issues. Thanks to Mazur the collection is richer in substance. At some point, however, he said, "you already know enough, you should now go alone." He remained only a consultant, giving us a free hand. This also had its charm, and thanks to this the collection is not dictated, but partly our own.
MK: The collection is impressive, one of the largest in Poland. How did you manage to assemble it in such a short time?
KM: We took to the creation of it with great enthusiasm. I spent almost every other weekend on the road visiting artists in their studios, their homes. Initially I thought that we would manage to create the whole collection within two years. When I talked about this, I heard: Impossible. Then I came to the conclusion that in fact it was not about speed, but quality. Later the pace had slowed down a little for many different reasons. Now, without haste, we are expanding the collection, paying special attention to the art of the younger generation. It's not about age classification, but about a way of thinking and representing contemporary issues. The most interesting part of creating the collection were conversations with the artists. It might sound corny, but trying to understand what the artist felt, what they went through while creating a given work fascinated me. Artists often are people with strong characters, our meetings required great concentration and commitment.
MK: Many of the presented works are archival photographs. Was it difficult to reach those from the 1970s? Are they modern prints?
KM: Regarding the old photographs, I did not make any special effort to reach them.

Sometimes I would buy them at auctions. The works of Jerzy Lewczynski or Michal Sowinski come from the artists' studios. On the other hand, it was very difficult to acquire works which had won acclaim abroad, eg. Supermatka by Elzbieta Jablonska or Madonna by Katarzyna Gorna. We waited for such works for up to three years. We ran across the photographs by Gorna, which we cared a lot about, by happy accident.
MK: Would you like to have the collection exhibited permanently in the museum?
KM: I think that this is a quiet dream of every collector who doesn't treat their passion as an investment. Our goal has never been a capital investment, or multiplying thereof through buying works of art. This doesn't matter to us at all. We wanted for this collection to be viewed and appreciated, that it would stimulate emotions, reflection and discussion.